About Us
We also carry out work to 'out of warranty' products and insurance repairs, including companies such as Domestic & General,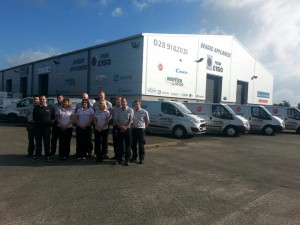 Mastercare/Currys/Laser.
If you require a service call for any of these products you will find the appropriate telephone number in Appliance Repairs.
Service Care also supplies, installs new and removes old appliances in our local area. We also stock a large range of Whirlpool 'graded appliances' that are priced with around 40% discounts and include manufacturers 1 year warranty.
We carry a large selection of spare parts, which can be purchased from this website and we welcome trade customers who can purchase at discounted prices on 028 9182 1131.
Our aim is to provide a fast and efficient service to customers when they have a problem with an appliance by sending factory trained technicians who are friendly and approachable. Our office has professional & understanding staff who will guide you through your repair.